Hello NFSSecrets staff, I wanted a little help from yours...

I wanted to create a mod for NFS MW (2005) that opponents would use bonus cars during races
(M3 GTR ALMS, M3 GTR Street, C6.R, SL65, Camaro SS and 911 GT2), there is already a mod like that,
but he also Add the police cars together and I just wanted only bonus cars.

The help I needed, was to know where it modifies the part of the opponents? I looked in VLT-Ed 4.2,
but I did not find anything about it...

Someone can help me??
Bro, send me the link and I will check it out.
@MNaeemi777

wrote:Bro, send me the link and I will check it out.
I found a mod that supposedly adds 4 bonus cars in races,
now I just wanted to know how to add the other 2 (M3 GTR Street and Corvette C6.R)
Mod Link
First of all, the mod is a script and works only with modloader so if you wanna edit it you need the offsets using the v1.0 of VLT-Ed (the one from Arushan, not nfsu360).
Second. The mod you provided without changes does exaclty what you want. So if the cops appear as racers you can redownload the mod and replace (the easy way) or...
Look into ADDONS/CARS_REPLACE/_RACING_EXT and open ATTRIBUTES.MWPS with Notepad, Notepad ++ or any other text editor. Compare it with this photo to see if there is enabled cops. The right one -> is the mod you provided in the link, which works enabling just bonus. The left one <- is a script I completed with cops because I wanted them to race many years ago.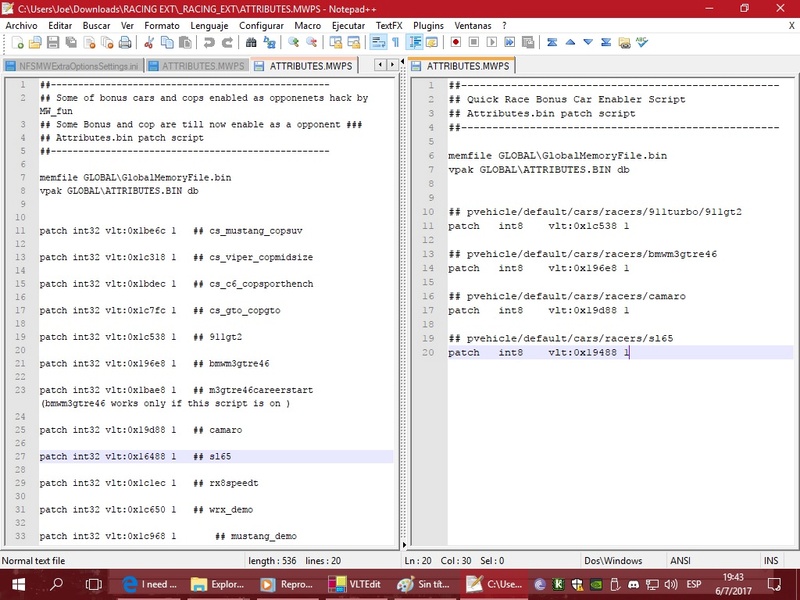 If the ATTRIBUTES.MWPS is not the problem, then you might reinstall or replace with a backup your GLOBAL folder (again the easy way)or check:
1- If there is another mod that enables them.
2- If ATTRIBUTES.BIN have been modified with Vlt-Ed 4.2. This is the value that enables them.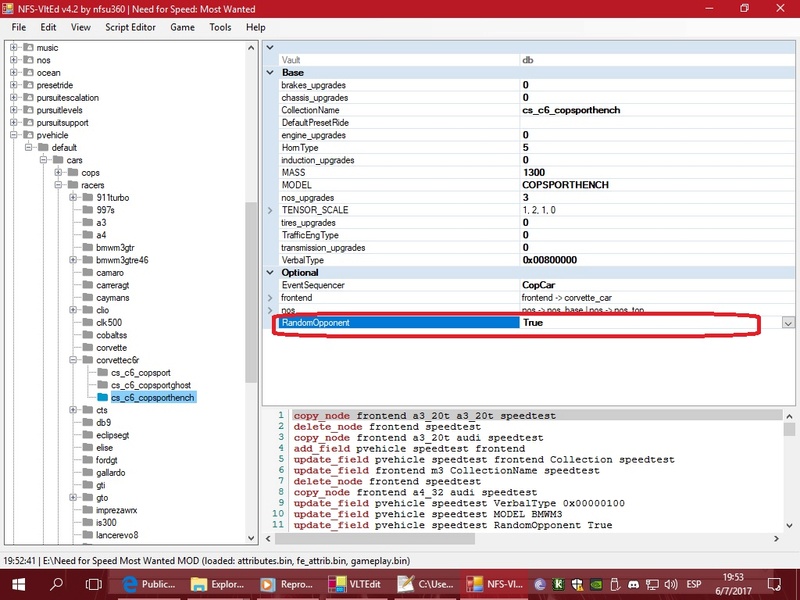 In this case, the cop corvette heat 5. (Ignore the other -copsport and copsportghost- those were other things I did on purpose)
Good luck with that. And give feedback please.

_________________
Collision detection off is for ladies



Joined

: 2017-04-01


Messages

: 13


Location

: Monte Grande, Argentina

My Feedback is:
Your explanation helped me a lot, now I just wanted to export these
changes to a .MWPS, which program do I use??
Exporting as .MWPS is impossible, yet.
_________________
No problem. Ask always, when you have questions. We are here for replying. ;)
_________________
---
Permissions in this forum:
You
cannot
reply to topics in this forum